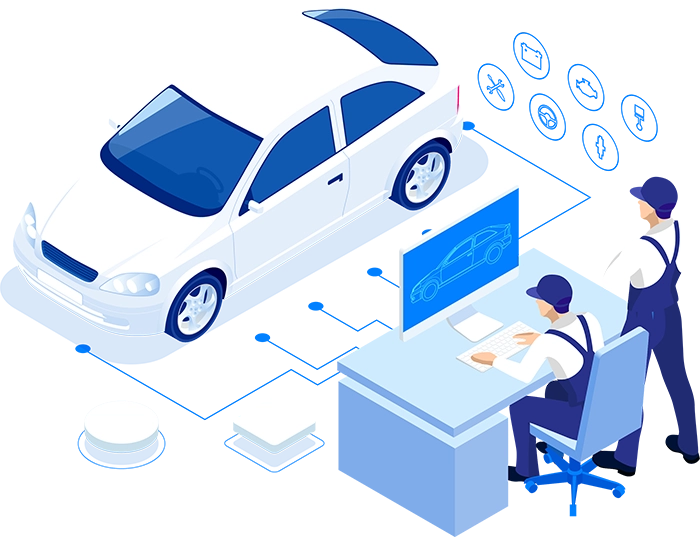 What's Included with Shop4D
Shop4D is the industry's first and only fully integrated repair shop management system. This means that every component of Shop4D is seamlessly integrated into the production pipeline, and works together to make you more efficient.
This newfound efficiency means that the average shop switching to Shop4D bills half an hour more per vehicle!
Every Shop4D subscription includes:
Parts

Sourcing

Build estimates in minutes, get customer approvals in seconds, and order aftermarket parts and tires in a single click. With Shop4D, parts sourcing is integrated into the inspection, writeup, and estimate so that techs can request and receive exactly the parts they need to fix the car right the first time. The innovative parts sourcing and ordering in Shop4D makes it the fastest parts sourcing tool in the industry.
Digital

Inspections

Both custom and default inspections put your techs in control, leading to better write-ups and estimates and more billed hours. By default, Shop4D comes with the same inspections that we use in our own successful shop to write $3.5 million annually in a 6-bay shop. Shop4D also lets you tailor the default inspection or build a new one from scratch – and no matter what inspection you're using, it is integrated seamlessly into the writeup and estimate processes to help shops maximize their hours billed.
Every Tool,
Integrated
Stop juggling programs. Shop4D has integrated part sourcing, labor guides, repair procedures, TSBs, reporting, texting, emailing, payment processing and so much more. But because your investment in a repair shop should be so much more than checking items off a checklist, Shop4D doesn't just include these tools – it integrates them. In other words, Shop4D doesn't tack on features just to have them – we build them into the production pipeline so they're available at precisely the moment when you need them.
Accounting Tools

for Everyone

Shop4D starts with a highly customizable integration for QuickBooks Desktop and Online and adds an AI-powered invoice scanning and industry-leading core and part return systems. The reason for this is simple: when your bookkeeper doesn't have to spend as much time on reconciliation and busy work, they can help the shop owner get the insight and confidence they need to grow the shop.
Built for
Multishops
With Shop4D, multiple-location owners can transfer employees, inventory, and repair orders in a click, and manage all locations from anywhere with industry-leading multishop reports. When you can manage all of your locations in minutes per day, you can scale your operation to new heights…and when your entire operation experiences the efficiencies created by Shop4D, you can grow each location without adding more overhead.
Customer
Service
World-class customer service is included by default with Shop4D. Our team of onboarding and tech support specialists are US-based and shop-trained because when a customer is waiting or a car is up on a lift, the last thing you need is to wait around for a callback or email response. Getting you the right answer from the right source is our mission, whether that means talking to the advisors and techs in our shop, calling vendors, or even researching repair information for you.
We previously used five different sources of software to manage our business, and then it was a labor to coordinate the information. Shop4D does all that we were doing plus much more, and it is all sync'd and coordinated every single day. That gives us the ability to manage our efforts and direct them to improvement, which we do daily with all workers and staff. It has made a huge difference.
Joe Piccolo | Supreme Auto