John Polonchak was struggling.
In his busy, thriving shop in Denison, Texas, John and his team were having trouble getting work through the shop. Sourcing parts and building estimates were taking far too long — essential functions for any facility.
Then he received a call from Shop4D that changed the trajectory of his shop.
They discussed what John's goals were for himself and the shop. They talked in-depth about the challenges and limitations of the shop management system John had been using for 18 years. As John learned more about Shop4D, he envisioned how it could transform his shop and decided to make a change and invest in his future.
Change is never easy, and the thought of switching to a new shop management system was a little overwhelming for him. He had a certain comfort with his existing shop management system and knew he'd have to dedicate himself to learning a new system and shop processes if he was going to maximize the tools built into Shop4D to grow his shop.
John chose to take his shop to the next level, and has never looked back. This year, his shop is on pace to see a 128 % increase in his shop's sales over the last several years.  John increased his sales by over $3000 per day… and only added one technician to his entire operation due to the efficiencies built into Shop4D.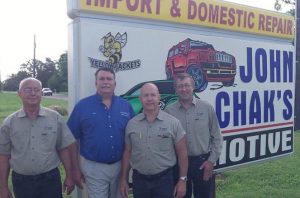 "Being able to source parts from multiple vendors at the same time, having that parts sourcing integrated with the digital vehicle inspections, all on one platform, along with getting digital signatures and integrating the photos…it's been a game changer for me," John says of his Shop4D experience.
He remembers one customer in particular to whom John sent an inspection link, along with recommendations and pictures. As soon as the customer got the link, he called John immediately and asked him to move forward with the repairs he had originally declined. The customer greenlighted $485 in recommendations after he saw the photos. "We were able to do everything in just a couple of clicks," explains John of the Shop4D interface.
John says his favorite part of Shop4D is the "positive people you deal with day in and day out." Tech companies can be infamous for not providing enough support after the sale. But John's experience couldn't be more different.
"If you have a technical question, their technical team is phenomenal. The weekly training is exceptional. I've been using the product for nine months, and I still attend the weekly trainings. The whole atmosphere is so positive and supportive. Being surrounded by professional, well-managed shops that want to grow and do right by their customers is the whole package of what Shop 4D offers. The Shop4D family is just phenomenal."
He adds, "I'm a technician turned shop owner and never once in the dealership [where he once worked] did I have a customer feel good about spending thousands of dollars on their vehicles. But since we've switched to Shop4D, we've had multiple tickets from $15K to more than $20K and the customers have left this facility happy. I've never seen that in all of my years in business! Shop4D puts the customer at ease in making these purchases."
John says Shop4D's approach to taking care of their clients stands out from the competition. His previous shop management system had good support but it's nothing like what he has seen with the Shop4D family.
"They're not just here to sell a shop management system," he says. "They are here to make their customers more successful."
The results from Shop4D speak for themselves with the amazing growth John Chak's Automotive has experienced in just nine months. We look forward to seeing where he'll be as he celebrates one year!
Want to experience phenomenal results like John Chak's Automotive?  Book a Strategy Session with one of our Client Service Specialists by clicking the link in the header today!