Last September, Joshua Wahlstrom, owner of Farmington Service & Towing in Farmington, Utah, wanted to quit.
The shop had experienced a lot of comebacks, Wahlstrom was overworked, juggling many different hats in the shop, and he felt as deflated as a flat tire.
He wasn't ready to walk away yet, though. Instead, he reached out to Auto Profit Masters and Automated Marketing Group and asked for help.
He listened to what they had to say, and more importantly, he implemented what they told him.
They started having daily 10-minute meetings in the shop.
During the meetings, Josh and his team focused on their goals, and everyone started rowing in the same direction.
As a result of the team effort, guided by Wahlstrom's leadership, the shop had the most successful fourth quarter in its history.
"Our team recognized something special was happening," says Wahlstrom of the changes they saw in their shop.
Fast forward to March of this year when Josh learned about the Team Development Summit May 6-7. Wahlstrom knew he had to consider it based on the success he had experienced since turning to Auto Profit Masters for help.
After talking it over with his tech, Tyson, Wahlstrom made the investment and traveled to Denver. During the training-rich two-day event, Wahlstrom had many "aha" moments and new ways of thinking about his business.
He says the two big takeaways from the Team Development Summit included the realization that his shop needed better diagnostics and he got laser-focused on what he wanted as a business owner.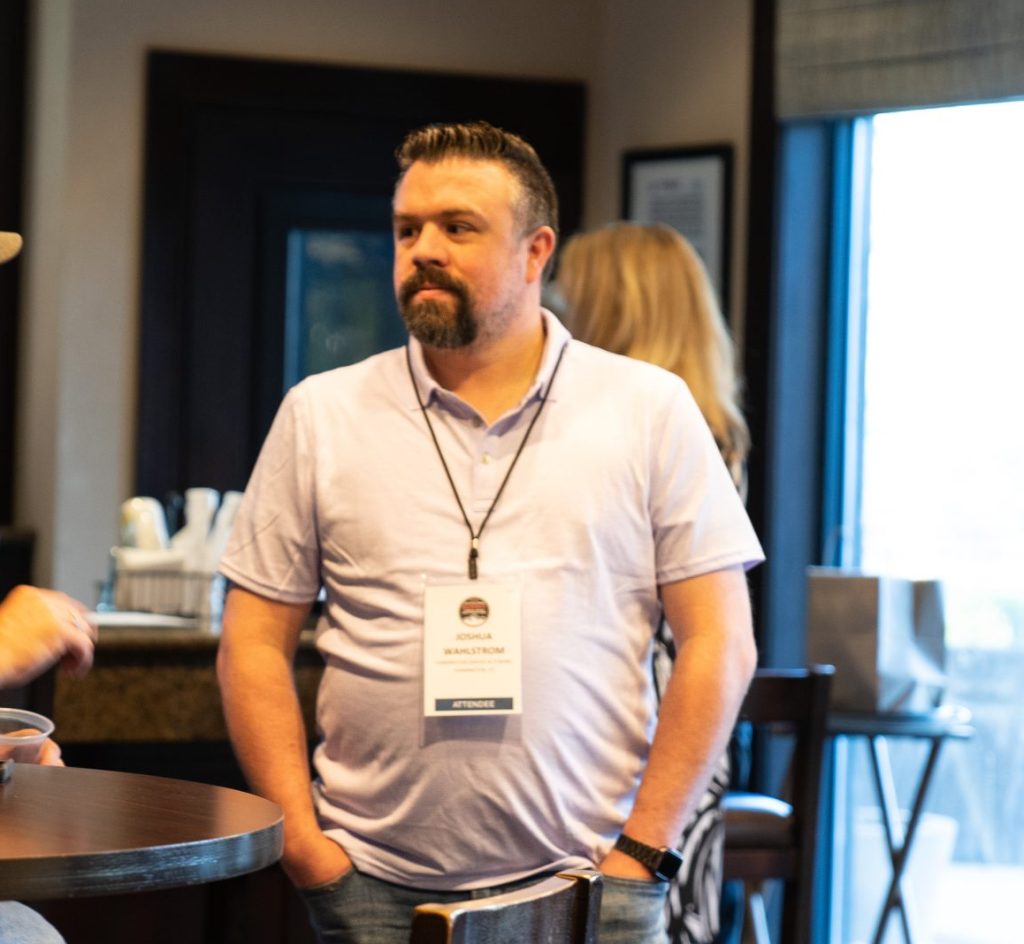 Getting the tools to do their jobs better
During their download sessions every evening, Wahlstrom and Tyson began making a list of equipment they needed to help them with their diagnostics to be more productive and efficient. They purchased all of the equipment within a month of the Summit to build on the event's momentum.
"There were no sales pitches, just information," says Wahlstrom of the Team Development Summit. He says the helpful environment David Rogers and his team fostered made it easy to trust the knowledge that Rogers and other speakers gave freely.
"David was genuine, and he didn't hold back at all," says Wahlstrom.
Besides the equipment, Wahlstrom's other takeaway was how he managed his shop.
Through Rogers' storytelling and examples of delegating roles and tasks to people who could do it better, Wahlstrom realized he didn't have to do it all himself.
"I wore too many hats in the shop, and I was starting to wonder, 'Am I the problem?'"
The Summit helped him to realize that if Farmington Service & Towing truly wanted to grow further, he knew he had to let go. As soon as he returned to the shop, he began succession planning.
'Springboard to greater things'
Looking back on the Summit and the investment he made to attend, Wahlstrom says he saw the whole experience as a springboard to launch his business into a new phase of growth and personal development for himself.
"It's a little scary," he admits about looking at the future and letting go of some of the day-to-day aspects that he has been so involved in.
Yet the Team Development Summit gave him a peek into the freedom he can experience by working on his business and not in it. He also feels confident about the future because he knows he has trusted advisors at Auto Profit Masters that he can rely on for wisdom and moral support.
Shop4D is 'last piece of the puzzle'
Wahlstrom's trust in the Auto Profit Masters' team was built over time and his personal experience and shop transformations through Shop4D. He began using Shop4D in 2018, and the biggest change he has seen is that Shop4D has "removed the blinders" that his techs had when it came to servicing cars. "It expanded our inspection and advising process and took our business to a whole new level," he says.
From conducting more thorough and easier inspections using tablets and communicating information better with their customers, which empowers their customers to make quicker and better decisions about their car care needs.
That has resulted in increasing their daily car count from 3.5 jobs to 8 and on average it has increased their average repair order by $200.
Marketing results in customers ready to buy
In addition to Shop4D, Wahlstrom has used Automated Marketing Group's direct mail marketing and has seen great success.
After the Team Development Summit, he signed up for a new website and renewed his direct mail. He says the direct mail the AMG team sends is effective because it establishes trust. In addition, Wahlstrom appreciates the strong image and messaging that AMG's marketing builds.
"Customers come in ready to buy and wanting to service their cars," he says. "For example, I had a new client come in this week who brought in her daughter's car. Using Shop4D's information, I could text her the estimate and within 10 minutes, I had the authorization to do $3,500 worth of repairs on the car. Their marketing works on a level I haven't seen before."
Looking ahead with confidence
What's next for Farmington Service & Towing? Wahlstrom wants to focus on growing his team's knowledge with training and education. Several are working on ASE certifications. In addition, Wahlstrom has set a personal goal of working on a shop handbook one hour a day to start documenting his day-to-day duties so that when the time comes, he can start handing the reins to someone else who will succeed him one day.
Through the Team Development Summit, he knows the value of investing in good training by industry leaders and experts who have phenomenal results and genuinely care about the customers they are serving. "As a shop owner, it's pretty easy to feel like an island when your business moves so fast," he says. "But being a part of the Auto Profit Masters community, you're never alone. The Summit gave me strength, a sense of camaraderie, and a mutual goal of growing and getting better together," he says.