Chris Myers, Myers Automotive, is on target to grow his business by $1 million in 2021, and he's grateful to be in a position to grow his operation, reward his team, and have additional resources and freedom to support the community he has called home since 2005.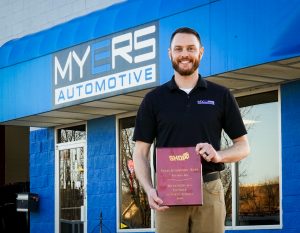 With four locations in Andover, Wichita and Derby, Myers Automotive was one of Shop4D's Top Shops in 2020, and is on pace to retain that title in 2021.
At 42, Myers is a young shop owner, but he has been working on cars since he was 11. Growing up on his family's farm, Chris "tinkered" with his first car, a broken down Willy's pick-up truck, which had been sitting on the farm for a long time. After much trial and error, he revived the dilapidated truck and was able to drive it around the farm, getting lots of driving practice even before the age of 12! Automotive service comes naturally to Chris, whose dad once owned a facility that worked on fleets.
Chris attributes the great success of Myers Automotive to the Shop4D product. He says the product has been a "game-changer" for his business and has helped him to retain more employees and staff. Says Chris, "Everyone is clear on what is expected of them and the goals to meet at each location, which is all tracked in real-time through the software." He said the additional coaching he's invested in with Terry Keller and David Rogers has helped build his knowledge and gain insights into his business that he didn't have previously.
Perhaps the biggest benefit from Shop4D, Chris says, is how much quicker and easier the software makes it to provide an estimate to a customer. "Shop4D excels at checking parts inventory with all of my vendor providers and clears up the bottlenecks, streamlining our processes and increasing our efficiency."
Once Chris had his shop operation running efficiently, he found many of the concerns and problems he had in the past were gone.  The need for additional technicians was not something that kept him up at night, once that his techs had the tools to bill more hours and get more work done each day.  After he solved his workflow and shop productivity challenges, he was able to turn to Automated Marketing Group (AMG) to help him attract high-quality customers in his market, and make the next jump in his business profitability and sales.  These marketing efforts have consistently brought Chris customers that walk in the door trusting them, looking for a relationship with his business, and return time and time again.
At the same time Chris put all of his marketing efforts into the coordinated approach with AMG, he asked David Rogers and Terry Keller at Auto Profit Masters to assess his business and entered into a business coaching relationship.  The ability to share concerns, get eyes on the business from real professionals that have been in the industry with their own shop and understand the real issues – and proven solutions – gave Chris the help he needed to continue to grow his business to new heights, and breaking records along the way!
That success in his shop has allowed Chris the time and financial freedom to do more in his community.
Chris's community involvement began when one of his longtime customers introduced him to the local YMCA in Andover. Chris now serves on the YMCA's Advisory Board, supporting its various community outreach programs, including its summer "Splash" program.
"Splash" teaches children how to swim and provides them with transportation to swim classes and a meal afterward. Myers loves that it reaches children with such important life skills as swimming.
To raise money for the YMCA, Myers hosts an annual block party, which is always a hit – including its popular dunking booth. It attracts children of all ages, and has community participation from community leaders, including the police chief – which makes dunking a lot of fun!
Myers also sits on the board of the Andover Chamber of Commerce. During Christmas last year, the city of Andover had to replace its Festival of Trees celebration with something else, due to COVID-19. Chris and his father-in-law were instrumental in bringing Christmas cheer through a new activity called "Christmoose." They spent many hours cutting moose shapes (not an easy feat) out of plywood for a decorating contest sponsored by the Chamber. Chamber members purchased "Moose Kits" to decorate and display throughout the city. As the president of the Chamber wrote in her monthly newsletter after the successful event, "Who knew a herd of moose could bring such fun to our community?" Funds raised support academic scholarships for students in their community.
Whether your goals for your shop are to bring in more profits, smoother operations, staff retention or to serve your community, as Chris has shown, having a reliable partner like Shop4D can help you accomplish more than you ever thought possible!
Learn more about how Shop4D can help you grow your sales and profits and allow you more time and financial freedom in your life!